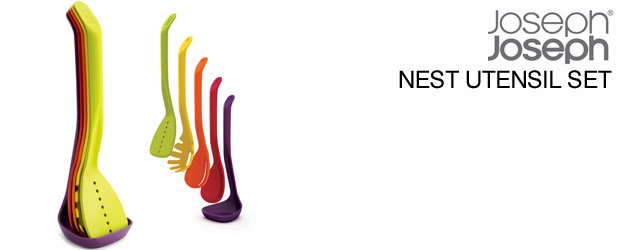 Nest Utensils
No longer available - Sorry.
Joseph Joseph's colourful nesting utensils
Nest is the ultimate collection of practical, space-saving kitchenware comprising a unique range of food preparation sets. Their innovative design allows the individual elements within each set to be stacked neatly together, thereby occupying the absolute minimum amount of space, wherever they are stored. Nest Utensils are the latest addition to the range, comprising 5 essential kitchen tools in a compact, self-supporting design. When nested together, each tool is held securely in place by small magnets in the handles. This colourful design not only looks great, but it eliminates the need for an additional utensil pot, or the problem of having a drawer full of tangled kitchen tools. All utensils are made from toughened nylon, are heat-resistant up to 240°C/464F. Bright, colour utensils To prevent staining, avoid using with strong food colourants such as Turmeric.
Made by Suck UK