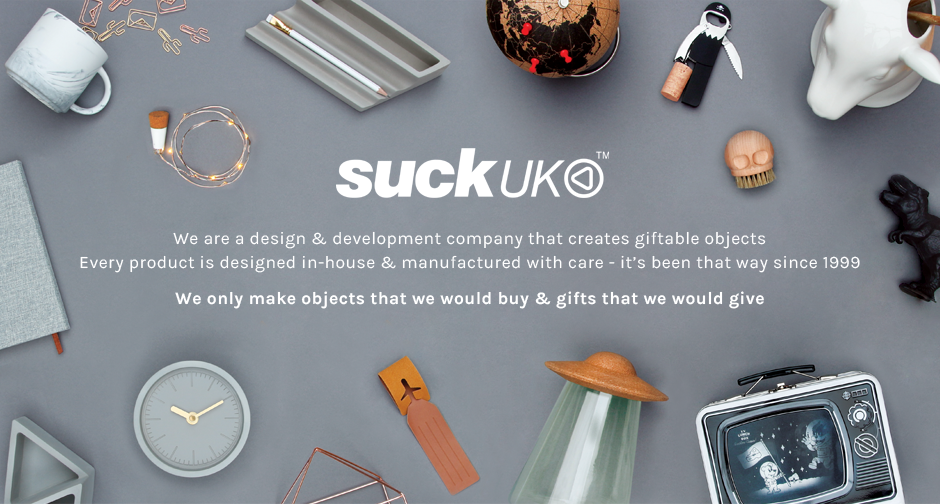 Ordering
QUICK AND EASY ONLINE ORDERING
Ordering online is quick and easy, and we have dedicated customer service and account managers on the phone.

Interested in making your first online order? Send an email with a brief overview of your business and we'll get you started.

Not in the UK? Click here to see our list of international distributors. If you're not on the list, contact us here.


Delivery
We deliver globally, from San Franciso to Singapore and beyond!
With Warehouses in the UK, USA and Hong Kong, you can rely on us for rapid dispatch no matter where you are in the world.

We offer fast and free delivery in the UK and many other countries, all with order tracking


New & original products
We develop new designs continuously, and collaborate with with talented designers to create unique products.


Huge range in-stock
One stop shop for distinctive products across all categories.  Great Gifts, Kitchen, Stationery, Home, Pets and beyond…


Free in store displays
Product supplied in counter top retail merchandisers. more here


Download content
Photos, video, text, barcodes, weights, dimensions. more here


Custom if you want it
We work with you to develop unique, white-label or fully bespoke products. Custom bar code labelling and packing requirements? No problem, just ask. more here 


EDI if you want it
Our computers will talk to your computers. We are fully EDI compliant and can integrate seamlessly to your back end systems.


Conformity
We supply you with a safe product that conforms to all regulations. We provide you with any certification you may require. 


Ethical responsibility
Our producers share our principles of social and environmental accountability. Audits are carried out to ensure that required standards are met. more here


Environment
Responsibility for the environment begins with product design. We strive to make the right choice of materials, packaging and process. For material breakdowns click technical specifications on product pages.


Useful numbers
Company Reg number 4718480 
VAT Reg number 7738390 89
EU EORI number GB773839089000
WEE Reg number WEE/JH3584ST
WEEE certificate


Returns
If you are not entirely happy with your purchase contact us within 7 days for an exchange or refund.
Please email us to arrange a return  

Return address
Camden Park Studios
Camden Park Road
London NW1 9AY 
United Kingdom


Before Returning
Please contact us before returning.
Returned products must be in their original packaging and in resalable conditions. Please attach a copy of your invoice or delivery note for identification purpose. Refunds will be issued within 7 days of receipt of the returned goods. Postage or other return costs are the customer's responsibility and will be reimbursed by us only in the case of damaged, faulty or incorrectly supplied goods.


Guarantee
We strive to provide you with the highest quality product. All goods are covered by our standard warranty period 
of 12 months from the date of purchase.
Shipping Cartons
Your order will be delivered in tough double wall cartons. All cartons clearly marked with stock code, quantity & weight. All cartons are under 15Kg.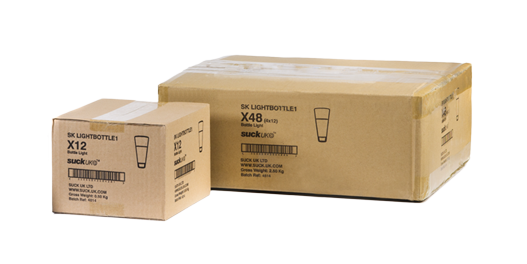 Bar Codes
All items are marked with unique EAN Bar Codes. Cartons are marked with corresponding Global Trade Item Number (GTIN) ITF-14 Bar Codes.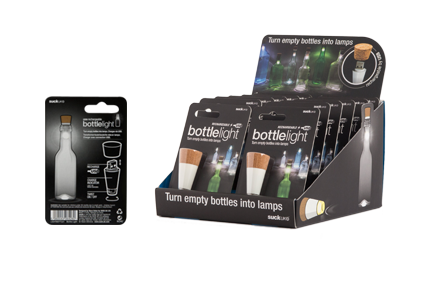 FAQ'S
Do you sell to the public?
Yes.
Order online or visit our store.

Do you sell to the trade?
Yes.
Call us on +44 (0)20 7923 0011

Do I need an account?
Trade partners need an account.
Other customers do not need to log in.

Where do you ship to?
We ship all over the world.
Select your country on the checkout page.

How much is delivery?
UK delivery is FREE. International shipping costs are shown in your cart. You will see the shipping charge update as you add more items,  so you can see exactly how much you are spending. Shipping charges are calculated depending on the items in your cart

How do you ship?
We ship the majority of our orders with UPS. From time to time we may use another courier service depending on the size of the shipment. Most UK orders are delivered in 1-2 days. International shipping times vary from country to country, but normally less than 1 week.

Where is my order?
We send you an order confirmation email shortly after you checkout. You will receive a second email once your goods are dispatched, you will be able to click and track your delivery from this email. You can also use your order reference to track your order

Do prices include TAX?
Yes. The price you see is the price you pay.
Prices include UK VAT where applicable.

Do I need to pay duty or tax when the goods arrive?
If you live outside of the EU you may be liable to import duty or taxes for your country. Please check first, this is out of our control. We ship from the UK.

Duties & taxes explained
If you are outside of the EU you may have to pay local duties & taxes when your goods arrive in your country. Duties & taxes vary from country to country, and one item to the next, usually between 0-10% of the order value. Most shipments will incur no charges at all! We cannot provide the value of duties & taxes before an order has shipped this is at the discretion of the local customs authority. Import duties & taxes are the responsibility of the receiver and should be paid to UPS who will contact you directly if there is anything to pay. - Payment of duties & taxes must be made prior to, or on receipt of goods - Delayed response may incur further charges, so immediate reply is important!

Is your website secure?
Our online payment provider is PayPal (including card transactions). This is a '3D secure' service, which means improved security for you as the customer, and us. '3D Secure' is a fraud prevention initiative, launched by the card providers as an increased security method for authenticating your card details at the time of transaction.
'3D Secure' stands for '3 Domain Secure' because there are 3 parties involved in the process: SUCK UK LTD, our Bank, and Visa or MasterCard. It is a culmination of two existing systems: Verified by Visa (VBV) and MasterCard Secure Code (MSC).